This Elevator Governor was taken out of a building from the early 1900's. A cable would run through the large pulley. If the elevator exceeded 350 feet per minute, the flyballs on top would be forced out through centripetal force which actuated a spring on the bottom. The spring engaged knurled rollers that stopped the cable instantly. Despite being activated, the rollers still allowed the cable to slowly slip through, so that rescue teams could move the elevator down to the next floor to let the passengers out. The lever arm resets the rollers to the unlocked position.
(Source Image URL from Old Portland Hardware)
In 1852, Elisha Otis introduced the safety elevator, which prevented the fall of the cab if the cable broke. The design of the Otis safety elevator is somewhat similar to one type still used today.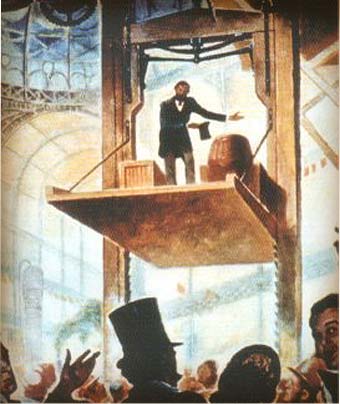 (Source Image URL from The American Society of Mechanical Engineers)
He demonstrated it at the New York exposition in the Crystal Palace in a dramatic, death-defying presentation in 1854. The first such passenger elevator was installed at 488 Broadway in New York City on March 23, 1857.[1]
And just for fun, check out this cool elevator governor kinetic display powered by a side shaft engine.
(Source Video Embed Code from https://youtu.be/VQOMfVeb0o0)